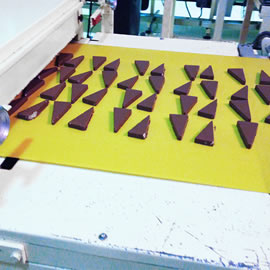 Nitta offers already a wide range of conveyor belts for the chocolate confectionery industry, but we decided to add an essential type to this range.
Many chocolate cooling tunnels are equipped with a thin, 1-ply cooling belt in an ochre-yellow colour. Users of these cooling tunnels often request the same belt as was originally installed, that is why we proudly present Nitta belt type 1 ULRAFP 02/OY2 IM

1 ULRAFP 02/OY2 IM : 1 ply, rigid, antistatic conveyor belt, with 0.2 mm ochre-yellow PU top cover and impregnation on the bottom side. Total thickness: 0,7 mm.

This new Nitta belt has excellent release properties, is knife edge suitable, handles perfectly the fluctuation in product and environmental temperature and ensures precise product positioning on the belt.

Many belts have been successfully installed, as you can see on the picture below, featuring a belt of 70 m x 1000 mm
If you are interested, please contact your Nitta Area Sales Manager for more information and samples.

The CP Profile can be produced in PVC or PU. Nitta prides itself in its flexibility and ability to produce products (up to a maximum of 1000mm in width for the CP profile) that match the exact requirements of your customers.

Please contact Nitta Corporation of Holland if you would like to receive more information about this new profile.