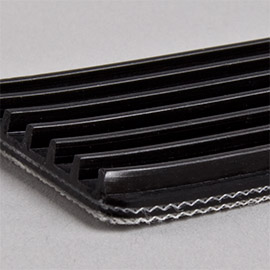 A challenge for almost everybody, in any industry where piece goods are handled, is:
how do we get the goods upstairs?
Conveyor belts with a smooth cover are mostly too hard and let the goods slide down again. As a first solution, smooth belts with a softer cover, like 55A or even 35A were used, but as soon as the belt was covered with some dust, the problem was re-born.
The solution was found in the use of profiles. Nitta offers a wide range of profiles, for example: Roughtop (RT), Wavetop (WT) , Light Duty (LD), Longitudinal Rib (RB), and ConGrip (CG),no doubt you are familiar with them.
Each of them are useful in many occasions. Yet, for heavy products such as large boxes, pallets and bags, each of these profiles may not be the optimal solution. When a heavier, more sturdy profile is required we advice our LRB = Large Rib profile (in length direction)
Description of the profile
The LRB profile consists of longitudinal grooves of approx. 3 mm height at a distance of 5 mm. The picture below gives you an indication of its topview & cross section.
Advantages
The heavier the product, the more the ribs will lean over thus increasing the contact surface and holding the product in position.
Yet, the hardness of 55 Shore A assures that the profile stays intact.
Large space between the ribs assure that also in dirty circumstances the belts remain clean and keep their grip.
Availability
The LRB profile is standard available in 2000 mm width.There are already many conveyor belts with an LRB profile in Nitta's product range,
that are used in many different industries for example the transportation of meat in slaughterhouses or luggage on airports. Below you will find a technical datasheet of each belt type with LRB profile.
If you have more questions about this profile or belt types please do not hesitate to contact your Nitta office directly or via