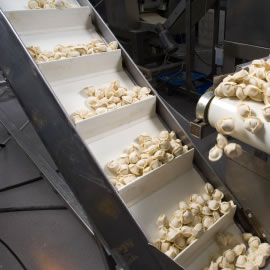 For many years now Nitta have manufactured a range of PVC belts specially developed for swan neck conveyor applications. The range has expanded significantly over the past year with the addition of many PVC and PU products.
A wide and rigid belt is essential for swan neck conveyor systems. For these applications Nitta use an extra rigid fabric, eXtraRigid (XR). This fabric features extra-thick monofilament across the width so the belt stays flat and stays in its position within the swan neck.
Exploiting the properties of these fabrics in a 2-ply belt means that 3-ply belts will in most cases no longer be required in these applications.
The belts are available in both 2000mm and 3000mm widths.
If you are looking for a specific belt for a swan neck conveyor or if you would like to find out more about our specially developed conveyor belting materials in both PVC and PU, get in touch with your Area Sales Manager or post a query at
Datasheets from a selection of belt types. More are available upon request.

DS_2_XRAFP_03-PG_IM_M.pdf

DS_2_XRAFP_03-W_IM_M.pdf

DS_2_XRF_71_SC.pdf

DS_2_XRF_371-3701.pdf