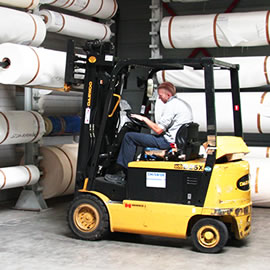 Nitta is committed providing each customer the highest standard of customer service.
Essential element is Fast Shipping!
For this reason Nitta Holland has more than 100 belt types, in different dimensions, on stock. This means that stock items can be shipped within one day or a couple of days when the belt needs to be cut.

To make sure that overseas customers, in this case especially USA and Canada, receive their goods fast, Nitta Corporation of America increased their stock. Besides transmission belts you will also find a great amount of conveyor belts on stock in Atlanta. Full and half slabs can be shipped within a couple of days.
Please contact Nitta Corporation of Holland or Nitta Corporation of America and find out which belt types are directly available for you!