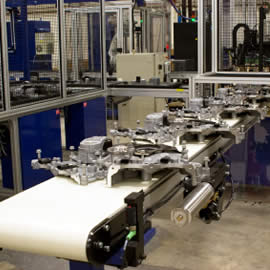 The newly developed Nitta conveyor belt 2 XRAFP 15/V/T SC combines a hard (hardness 92A) PU transparent top cover with a PVC inner layer.
The belt is the ideal solution for punching of metal parts in a wide variety of industries. Currently the belt is already used by car manufactures worldwide for the transportation of metal parts. The 2 XRAFP 15/V/T SC is available in a width up to 3100mm.
Features:
Also suitable for applications in the tile and brick industry
Excellent wear and cut resistance
Oil and grease resistant
Download the technical data sheet for more information.