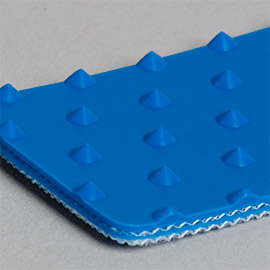 Nitta Corporation of Holland is proud to introduce a newly developed cone profile (CP profile) to the range of profiles available for Nitta's product line of high quality conveyor belting.
The CP profile is excellent for inclined and flat transport of e.g. meat and fish. The sharp points of the cone ensure the product is transported with ease and precision. Furthermore, due to the open structure design of the profile, your customer will have no concerns for hygiene as the belt will be very easy to clean.

The CP Profile can be produced in PVC or PU. Nitta prides itself in its flexibility and ability to produce products (up to a maximum of 1000mm in width for the CP profile) that match the exact requirements of your customers.

Please contact Nitta Corporation of Holland if you would like to receive more information about this new profile.