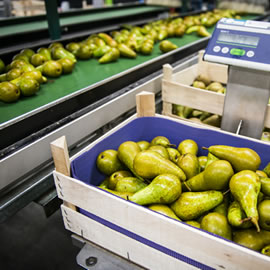 Conveyor systems in the vegetable and fruit processing industry require strong and wear-resistant belts. From harvesting through to packing the fruit or vegetables, every step in the process demands conveyor belts with different properties.

Nitta manufactures belts with excellent oil and grease resistance and the belts that meet the FDA requirements, 10/2011/EC + amendments.
Conveyor belts solutions for every stage of the process
Nitta offers a wide variety of belt types and has a belt solution for every stage in the process including:

• Handling of unpeeled and unwashed vegetables and fruit
• Washing and peeling
• Cutting and baking
• Out feed of oven
• Flavouring
• Diversion to packing
• Packing and storage
For more information please contact your local Nitta Corporation office or Nitta distributor.
Conveyor belt types for conveying vegetables, potatoes and fruit:

These belt types are just a selection from the Nitta range. Besides these there are many other belt types available that also can be used in these applications.