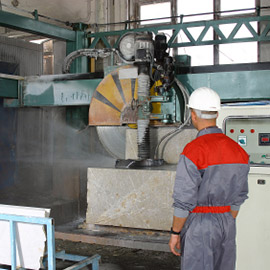 For the polishing of slabs of marble or granite, Nitta offers process belts with the special NP profile. Conveyor belts with this profile provide an excellent grip on the stone and deal efficiently with the drainage of cooling water and sludge.


A flat conveyor belt at higher grinding pressures
The applied monofilament in Nitta's fabric, which is unique in this industry, keeps the belt flat even at higher grinding pressures. This in turn provides a larger polishing width, better belt tracking and a reduction of possible belt damage. The lifetime of Nitta's marble conveyor belts can be considered unique in the industry.


For more information please contact your local Nitta Corporation office or Nitta distributor.
Conveyor belt types that can be used in marble processing and finishing: