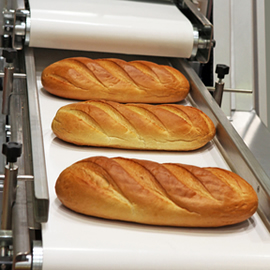 Labour savings and producing consistently high-quality products are key factors in the automation of bakeries. In this demanding process, internal transport has a direct impact on the quality of bread, pastry or biscuits. Polyurethane (PU) belts are advised in this environment; not only because of their flexibility and reliability but also because of their hardness, making it possible to apply the smallest knife edges in the process.
Processing hygiene - easy clean and non-sticky conveyor belts
Regulations from supermarkets, fast food chains and government require stringent rules towards food safety. In food processing, hygiene is extremely important. The Nitta belt selections for bakeries are always easy to clean and, where necessary, provide minimum chance of the product sticking. Product stickiness is an issue before products enter ovens. After coming out of the oven, breads and pastries are cooled. With these actions other conveyor belt properties are crucial in optimizing production reliability and quality.

A different polyurethane PU conveyor belt type for each part in the process
Each part of a bakery process will need its own belt types with specific characteristics for optimal processing.

For more information please contact your local Nitta Corporation office or Nitta distributor.