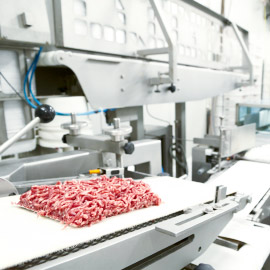 In fully equipped processing plants, products are transported by conveyor belts to minimize human contact with the product, increase logistic efficiency and make products traceable. For this internal transportation both modular and PVC/PU conveyor belts can be used, each with specific advantages and disadvantages.
The product characteristics (no shallow pits and grooves) and possibility of fitting sealed edges and closed side skirts make PVC/PU conveyor belts more hygienic in use than modular ones. For wet hygienic environments special PVC/PU conveyor belts are developed in such a way that fluids, including most cleaning products, can discharge easily, without sticking in small borders.
PVC and PU conveyor belts with different hardness
Depending on the cutting machines applied in a process, PVC/PU belts with different hardnesses will be needed to provide optimum long-lasting conveying solutions. All Nitta meat, poultry and fish conveyor belts can be used in food grading lines. For conveyor belts used with manual labour, Nitta often recommends very specific belt types when it comes to colour differentiation, noise reduction and grip properties.
Belt profiles enhance the reliable of transportation
Profiledconveyor belts easily transport unpacked raw food products upwards and downwards in the process while maintaining optimum product quality. There are a variety of profiles available from Nitta to ensure reliable conveyance of most types of meat, poultry or fish.

Nitta's conveyor belts for meat, poultry and fish meet the highest industry standards
Nitta meat, poultry and fish conveyor belts are developed in line with the highest FDA (US Food and Drug Administration), 3A and European Union industry standards. Nitta can supply all belts in the colours you require, including white and blue.
For more information please contact your local Nitta Corporation office or Nitta distributor.
Conveyor belt types frequently used for conveying products like meat, poultry and fish: