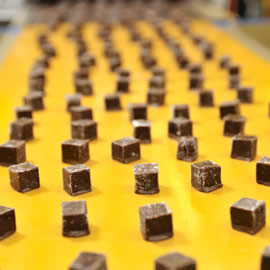 In confectionery factories raw materials that are often in powder form, are transformed into fully packaged products. The process which mainly occurs on conveyor belts involves a change in properties from, say, dry powders to sticky confectionery such as chocolates and sweets. During the process products can be cut into individual pieces and each step, including hard cuts with small knife-edges and a fluctuation in product and environmental temperature, demand very specific belt types.
Fabricating conveyor belts for confectionery products
Conveyor belts carrying confectionery products including curved conveyor belts are often equipped with sidewalls. Fabricating the conveyor belts and installing the sidewalls is carried out by our qualified distributors. Nitta delivers the full, high-quality rolls, which are solid and ravel free and manufactured up to the highest standards.
For more information please contact your local Nitta Corporation office or Nitta distributor.

Conveyor belt types suitable for confectionery products: