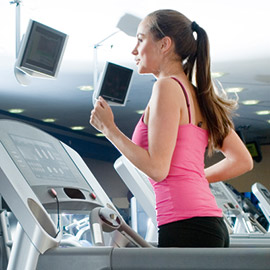 The use of jogging machines or treadmills for keeping fit is very popular and the number of gyms using them is growing all the time. At first glance, jogging machines appear to be a fairly simple application; two pulleys with a wooden support in between with a black PVC belt around it. But it's not as simple as it seems. There are always high demands made on the belt's properties such as:
Low noise generation
Impact resistance
Impregnated bottom
Anti-static behaviour
All these properties can be found in Nitta conveyor belts, which have been especially developed for these applications.

For more information please contact your local Nitta Corporation office or Nitta distributor.
Conveyor belt types used in jogging machines:
| | | |
| --- | --- | --- |
| Simple use | 1 RWAF 907 NDP AS | 1 ply belt, 0.7 mm PVC, Black, NDP profile, 80A |
| Fitness centre | 2 LRWAF 907 SQPR | 2 ply belt 0.7 mm PVC, Black, SQPR profile, 80A |
| | 2 LRWAF 907 NDP AS | 2 ply belt, 0.7 mm PVC, Black, NDP profile, 80A |
| | 2 LRWAF 3407 SQPR | 1ply belt, 0.7 mm PVC, dark grey, SQPR profile, 80A |
| Physiotherapy, hospitals | 2 LRWAF 916 WT 70° | 2ply belt, 1.6 mm PVC, Black, WT profile, |