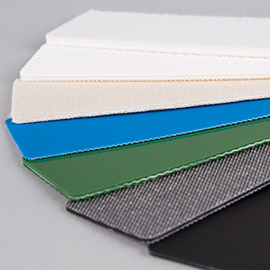 Nitta conveyor belts can be furnished with a wide range of covers, manufactured in many different colours and hardnesses.

Cover materials for Nitta conveyor belts:
PVC
PU
PE
Hytrel
Silicone
Fabric
Felt
PVC conveyor belts
PVC conveyor belts are extremely durable and very flexible. Nitta conveyor belts with a PVC cover/coating can be differentiated as OV and EX types.
The conveyor belts made with "oil and grease resistant" (OV) PVC have excellent resistance to oil and grease. The white and blue oil and grease resistant belts meet the FDA and European Union requirements* for handling food and related products. Belts made with EX PVC are abrasion resistant w ith high mechanicalstrength, particularly suitable for agricultureand materials handling, especially where the application causes high abrasion.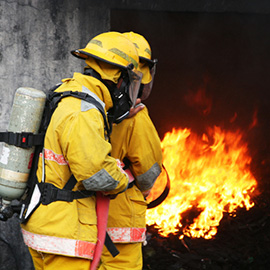 Flame retardant according to ISO-340
For airports and other terminals, special PVC conveyor belts are produced containing a flame retardant top cover. These belts comply with the ISO 340 standard.

Polyurethane (PU) conveyor belts
Thermoplastic polyurethane coating material excels through its exceptional resistance to grease, oils and chemicals. Nitta's PU conveyor belts have an extremely long life and are highly flexible. Their white and blue colour meet the FDA and European Union specifications*.
The PU belts are are available in two executions:
Hardness 87A: in white, blue, green and petrol
Hardness 92A: in white, blue, green, petrol and black
Polyolefinconveyor belts
Thanks to their excellent chemical resistance, and non-stick properties, the polyolefin conveyor belts are widely used in a variety of applications. Polyolefinc has been especially developed for the tobacco industry; this is because polyolefin covers contain no harmful substances if the polyolefin should accidentally come into the production stream and is burned afterwards. The polyethylene covers meet the specifications of the FDA and the European Union for all kinds of foodstuffs; Hytrel can be used for dry food.

Nitta has two polyolefin covers available:
Polyethylene - the first true polyolefin to meet the specifications of the FDA and the European Union for all types of foodstuffs.
Hytrel (thermoplastic polyester) - a later development that is more abrasion resistant. Hytrel meets the specifications of the FDA and the European Union but only for dry food.
Silicon cover for conveyor belts
Silicon is resistant to many chemicals, greases and oils. Nitta conveyor belts with silicon covers offer excellent non-stick properties in food applications, such as nougat and caramel. However, they are also excellent in the diapers and sanitary industry for the folding and gluing of paper products. Silicon belts are available in white and blue and meet the requirements of the FDA and the European Union for all foodstuffs.
Felt conveyor belts
Felt belts are used in a wide variety of material transport applications such as car manufacturing, food processing and heavy industry. Nitta has two different executions available
Black felt - often used in distribution centers, automotive industry and for transporting unvulcanized rubber.
White felt - often used in a variety of bakery applications for dough handling.


* Chapter 21, Code of Federal Regulations, for all kind of food & European union Directive 10/2011/EC + Amendments.